This month, let's be better, let's save our skin and the planet! We're going to hit the kitchen and make the most out of what's lying at the back of your shelves and getting no counter-time and give your face the attention it deserves. Here are our bridal beauty expert Laure Sejean's favourite homemade face-masks using nothing more than avocado, egg white, oatmeal, honey and lemon. 
Take a look ->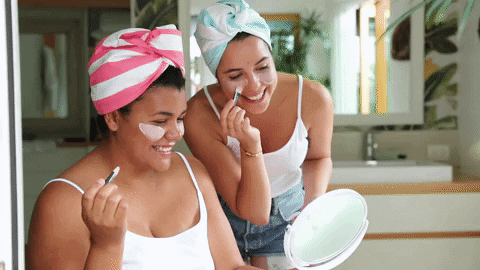 Hydrate Your Skin
Now that summer is pushing up the mercury and lowering the AC thermostats, combined with that pesky C-word keeping us all #homesafe, we're indoors more than ever and our skin isn't thanking us for it. But seeing as you're in your kitchen most of the time (or is that just me?) you may as well put some of its items to good use – You may just have the perfect remedies going unnoticed.
Avocado: It's full of all the power vitamins (A, D and E) to gain natural hydration, as well as a high level of antioxidants to guard your skin against unnecessary break-outs.
Honey: Another antioxidant-rich product likely sitting on your shelf. It also has propolis, which is an antiseptic and antibacterial that will aid in cleanimg as well as protecting your skin. It is a great exfoliator and amazing at soothing given its anti-inflammatory properties. All-in-all reducing the appearance of fine lines.
Lemon Juice: It has high levels of naturally occurring vitamin C which will give your skin a healthy glow and radiance. Its antioxidants can help reduce skin damage and premature signs of ageing.
Hydrate Mask DIY
Ingredients: 
1 Ripe Avocado

1 Tablespoon of Honey

1 Teaspoon Lemon Juice
Directions:
Peel avocado, remove the stone and mash until smooth

Add honey and lemon juice with avocado in a bowl and mix well.

Apply to face and let sit for 30 minutes.

Rinse & towel dry
Tighten Your Pores
For this mask, the main ingredient to tighten your pores is the Egg White
Egg White is a great exfoliant and naturally tightens the skin. It's especially good at clarifying the pores deeply to reach the hair follicles that can cause a build-up of sebum and cause acne.
Lemon Juice: its high levels of naturally occurring Vitamin C gives your skin a healthy glow and radiance. Its antioxidants can help reduce skin damage that contribute towards premature ageing and it is a great astringent.
Ingredients: 
1 Egg White

1 Teaspoon Lemon Juice
Directions:
Break the egg and separate the egg white from the yoke

Beat the egg white with the lemon juice until uniform

Apply to face and leave for 15 minutes

Rinse and towel dry
Exfoliate Your Skin
Exfoliating has become the hot topic for skin-care enthusiasts of late. There are lots of products to have hit the shelves but using them biweekly (minimum) can be expensive. Exfoliation helps to remove any dead skin cells that lay on your surface layer and end up clogging pores or attracting other debris. So don't miss this step from your skincare routine and now is the perfect time to start for fresh summertime skin!
Oatmeal is the key ingredients not to be missed for this one. It soaks up the excess oil on your skin and helps to treat acne. Its antioxidant and anti-inflammatory properties help protect and soothe dry skin as well as removing dead skin cells. Oats also contain compounds called saponins, which are natural cleansers. They remove the dirt and oil that clog the pores.
Greek Yogurt (believe it or not) will keep your skin moisturized throughout the exfoliation process. It also contains lactic acid which will resolve hyper-pigmentation reducing the signs of ageing and will leave your skin brighter.
Ingredients: 
2 tablespoons of finely grounded oatmeal

2 tablespoons of plain Greek yoghurt
Directions:
Mix the ground oatmeal with the yoghurt

Add 1 tbsp of warm water and mix to form a paste-like consistency

Apply as a scrub using your fingertips to massage onto your face/neck/décolletage in circular motions

Leave on for 5 minutes

Rinse with warm water and towel dry
You'll be surprised at the results by using these simple and easy to access ingredients that you probably already own. Why not kill two birds with one stone and whip up breakfast whilst preparing your mask! Just be sure to leave some for next week, as I'm sure the results will surprise you. Give it a go and let us know how you get on in the comments!